Upper Mustang trekking permit fee
Mustang has been a great attraction for experiencing the way of leading a true life with the mountainous people. Upper Mustang trekking permit fee start from the US$500 per person for first 10 days then each additional days cost US$50. It is easy to get the Upper Mustang trek permits if you photos, passport and other documents ready.
Visiting Upper Mustang is an opportunity for all trekkers to walk on ancient Himalayan trading route exploring life and mountains. The travelers need to obtain special pass to visit wonderful paradise of Mustang. When you book upper mustang tiji festival trek packages throw agency no worry about permit trekking company manage everything.
Is it necessary to have a trekking permit?
Of course! Special permit, ACAP permit and TIMS are very important to do trekking in Annapurna region Nepal. So make sure that you have all permits and completed official formalities. Otherwise ACAP and TIMS check post penalty you double charge if you needed permits on the way.
Restricted area permit not possible to issue on the way, make sure before go. Essentially three different types of permits are obtainable for Upper Mustang trekkers. If you would like to trek in upper mustang then you need some permits that are listed below.
1: Restricted area permit (Upper Mustang)
Restricted area trekking permit issue by the immigration office of government of Nepal either in Kathmandu or Pokhara throw the registered trekking agency Nepal. Original passport of travelers and passport size photo also require to issue.
It is not possible to enter upper mustang without permit. Territory above the Kagbeni village is known as the upper mustang area, RAP check post also is in this gateway; travelers have to show their permit and passport for registration before and after trek.
Given documents are essential to issue Upper Mustang trekking permit. Know about the best time to visit mustang Nepal for better experience.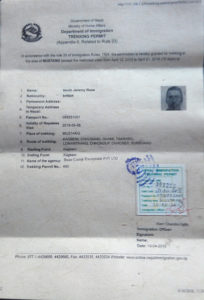 # Copy of valid passport
# Photocopy of Nepal visa
# Passport size 4 photos (for TIMS and ACAP also)
# Local agency agreement & itinerary
# Minimum two trekkers
# Permit fees US$ 500 (for 10 days)
For more detail visit: http://www.nepalimmigration.gov.np
Please note that individual trekkers are not allowed to trekking in Upper Mustang Nepal.
2: ACAP entry permit
Upper mustang is the part of Annapurna conservation area. To enter this region you have to have Annapurna conservation area permit also. ACAP permit cost is US$ 20 per person for whole trip. It is easy to obtain from the office of Nepal tourism board Kathmandu and ACAP Counter Pokhara. Local guide assist in any aspect to provide you better trekking experience.
3: TIMS Nepal
Office of the trekking agencies association Nepal Maligaun, Thamel and Pokhara issues the TIMS. If you are planning to go to Jomsom by flight and back to Pokhara by flight then TIMS is not necessary for upper mustang trek. There are not any TIMS check posts on the way to upper mustang Nepal. In case your flights delay due to the weather and prefer to drive back to Pokhara from Jomsom then TIMS requires.
Cost to issue the TIMS is US$ 10 per person. Keep TIMS card with you and use it according to the situation and requirements.

Beside these permit travelers have to pay entry fees to enter different monasteries in Lo Manthang and Chhoser caves during trekking period.
I think you are clear about Upper Mustang trekking permit and fees including process to issue.
Upper mustang area controlled for foreign travelers, not allowed to travel alone. Consult local adventure company to organize luxury or budget trip to upper mustang.
All you Need to know Upper Mustang trekking permit fee $500 for 10 days & travel information. Nepal gov issue Upper mustang trek permit for hiking in Mustang District. We issue the upper mustang trek permits, provide guide, porter services and organize upper mustang trekking trip as per your requirements. Email us to get the private trip cost or check the fix departure date to join the group.
New updates on upper mustang trek for Indian to visit world's most mysterious region in Himalayas. The upper mustang permit cost for Indian nationality equal as foreigners or $ 500 for first 10 days afterwards $ 50 per day.